Dispatch
Designed, tested and proven by dispatch personnel who use VDIS daily, VDIS Central is the heart of a system built specifically to allow dispatchers to make better informed, less stressful and more efficient decisions. With a learning curve measured in hours instead of days or weeks, this graphically based system is intuitive to both first time users and veteran dispatchers.
The VDIS map instantly shows your world at a glance.
Jobs pending (pin icon) and jobs in progress (rectangles) are indicated by coloured icons on the map.
Different business units, districts or crews within your company can be color coordinated to increase visual identity.
Toggle switches allow you to have as many or as few of the colors on the screen as you need.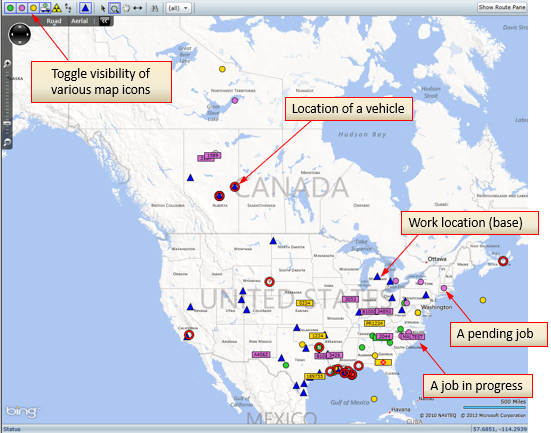 Zoom in as close as you want to a specific area.
Grid systems, borders, roads, cities and names all toggle on or off depending on the level of detail you wish shown on the map.
The VDIS map can be configured to work with any type of grid system. Coordinate conversion between grid systems can be easily calculated.
Click on a rectangular "Job in Progress" or "Job Pending" pin icon to bring up the job call sheet with all job details.
Call Sheet (Job)
Enter job information for upcoming jobs. Schedule crew and equipment now or once the customer is ready for you. Data entered automatically populates the visual map and schedule calendar.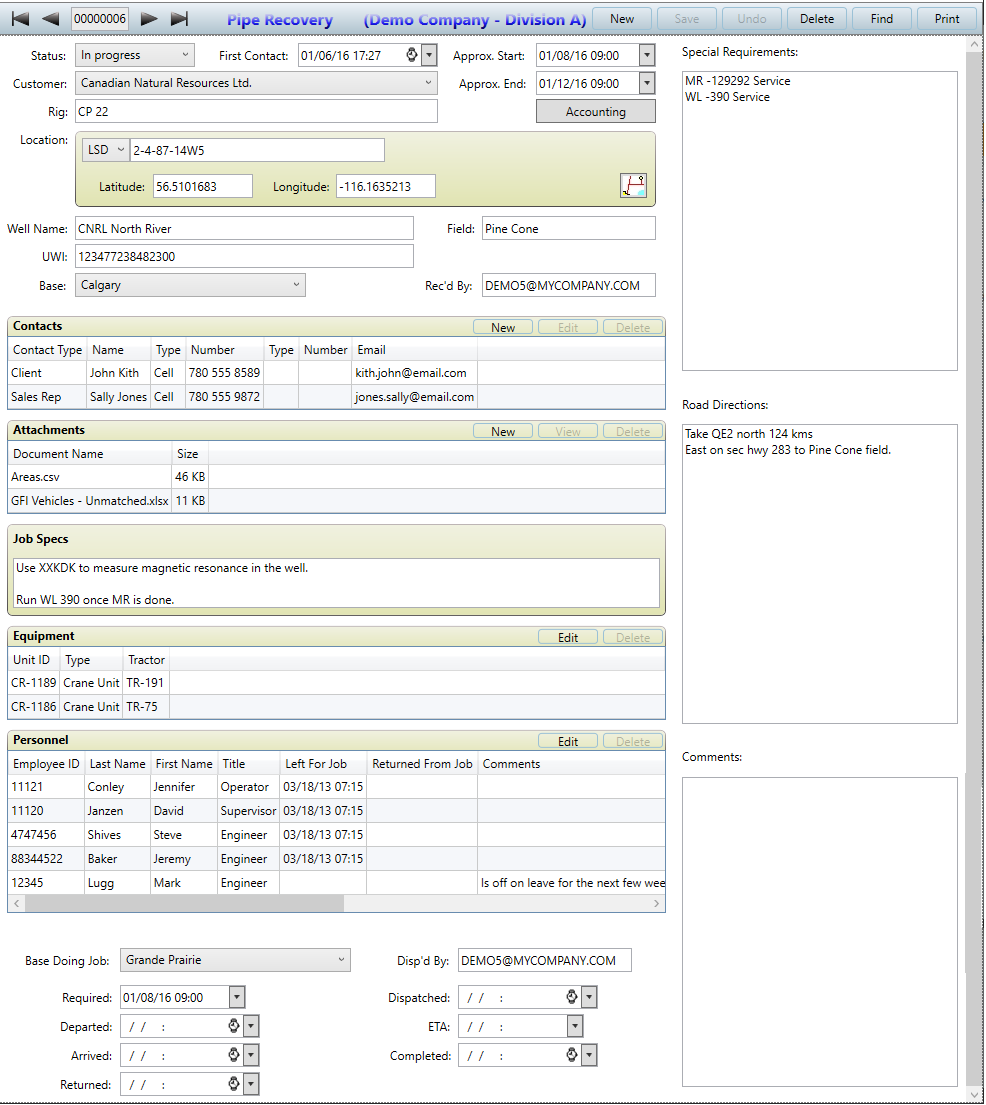 Schedule Calendar
This powerful calendar is a must for companies that have different business units working together on common jobs, or if you need to schedule single-day or multi-day jobs in the future. Separate pages on the calendar are available for each business unit with links between pages to ensure automatic information transfers and warning signals if job details change.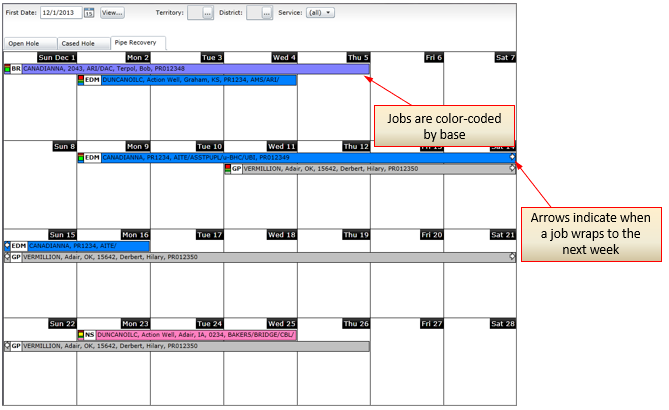 Reports
For Operations Management, the power of VDIS comes from creating a real-time information based culture and being able to turn information into knowledge with the Reports.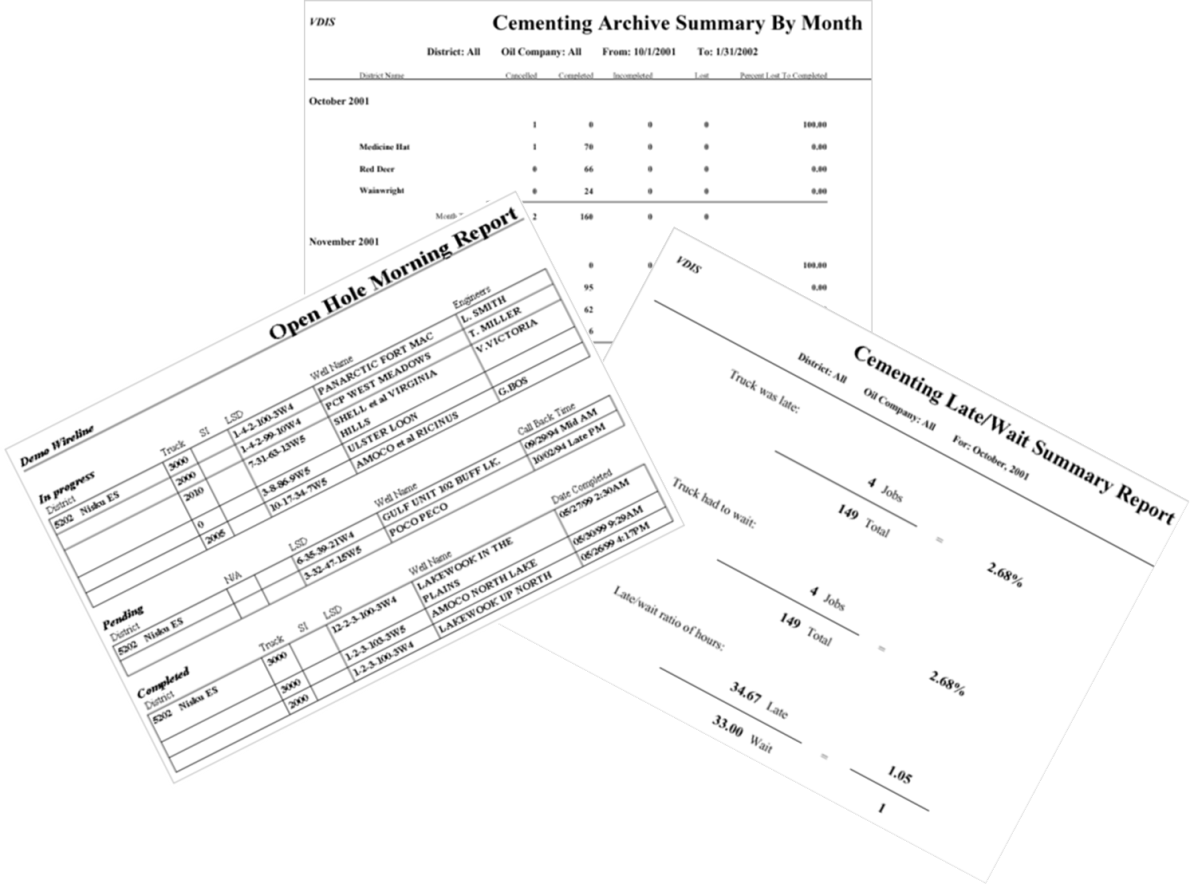 VDIS Central has been completely designed by dispatch professionals looking for a better way to more effectively and efficiently get crews, equipment and materials to the field. Their expertise and experience is the critical difference between VDIS and other off-the-shelf or in-house products.
Whether you dispatch from numerous locations, a central location or a combination of dispatch operations for different business units within one company, our team of experienced professionals can install a system that works within your structure.
---